---
Paul Marik
Charles mentioned a presentation with Paul Mark speaking. This video has now been uploaded to Rumble and can be seen HERE.
---
Perth Researchers Door-Knocking, Looking for Undetected C19 Cases
Thanks, Rosie, for sharing this Facebook post by Perth ABC stating that researchers are now door-knocking to find hidden cases of C19. As Rosie stated, "Our Tyrant is looking for the asymptomatic because apparently, our cases aren't scary enough for him 😜"
---
Dr Ryan Cole – Pathologist
Charles mentioned Dr Ryan Cole and his view that flax seed can be as effective as ivermectin. Ryan is a world-class pathologist in Idaho.
GO HERE for his site. Thanks, Simon, for providing this link.
---
Decreasing glutathione levels
Many thanks, Belinda, for this link to a product that is said to remove graphene oxide/other heavy metals from the jabs. Glutathione in nanoparticles removes toxins.
---
GA Judicial Review update #4 with Julian Gillespie
Thanks, Belinda, for this link to Julian Gillespie providing an update with respect to the next steps, and also discussing some of the damning data from the TGA that the TGA is choosing to ignore.
---
Diane Healing Links
Many thanks, Diane, for your suggestions in regards to healing.
If you are worried about blood clots, ask your doctor for a DDIMER test.
Healy Machine GO HERE and to purchase GO HERE
Time Waver GO HERE
For assistance and contacts, speak with Diane directly via her website HERE.
---
Rezotone 12
Thanks, Simon, for this link to Aluna Healing site that sells Rezotone 12.
---
FLCCC Webinars
Thank you, John O'C, for encouraging us to watch Paul Marik and Pierre Kory every Thursday morning at 11am AEST ( Daylight saving ) on a live FLCCC webinar.
---
Patents for COVID-19: Natural Components
Thank you, Simon, for this image of natural components to patents for C19.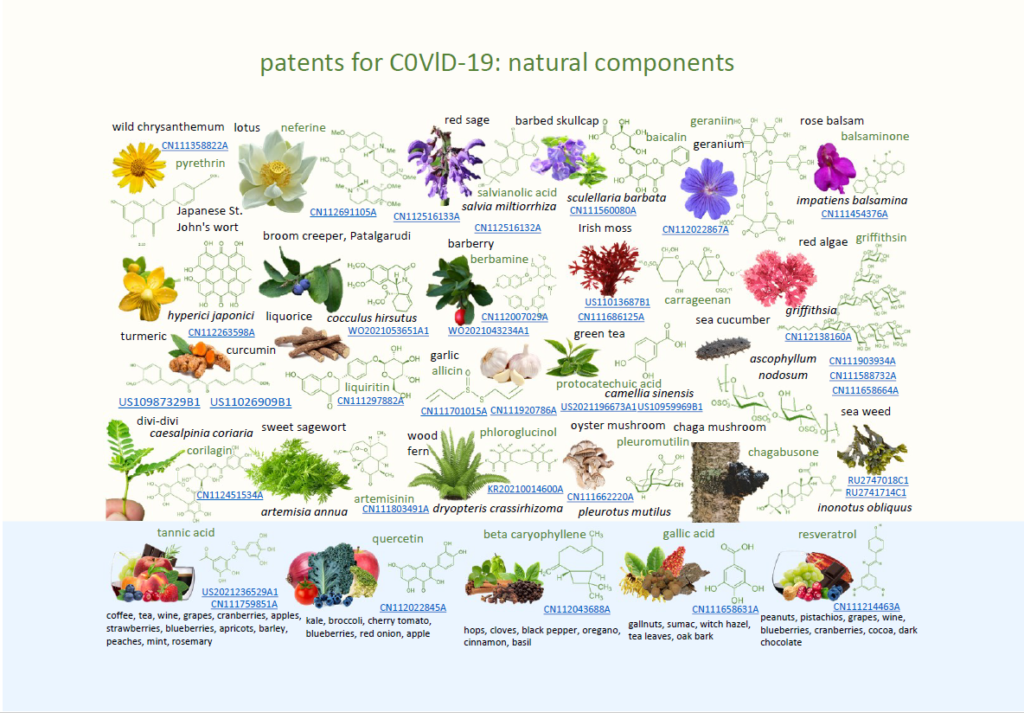 ---
Dr Jessica Rose
Charles mentioned Dr Jessica Rose. Jessica has a Post Doctorate in both Biochemistry and Molecular Biology, a PhD in Computational Biology and a Masters in Immunology, as well as a BSc in Applied Mathematics.
Jessica is bringing awareness to the public with regard to VAERS data. You will find updated VAERS absolute counts, some analysis, her publications on VAERS and in general and some of her favourite interviews on her site, Jessica's Universe.
---
Telstra faces class action over vaccine mandate
Thanks, Belinda, for this news article describing how Telstra has been hit with a class action, led by a former employee, after introducing a compulsory vaccination policy last year for customer-facing staff.
---
No Life Insurance payouts for deaths after jab because it is deemed experimental?
Thanks, Jules, for this information about a wealthy elderly man with a high-value Life Insurance policy to the amount of millions of euros… dies from the covid jab. His death as a consequence of being jabbed is not disputed by the doctors, nor his life insurers. The Insurance company refused to pay the policy, citing that the taking of experimental drugs, treatments, etc., is excluded from the policy. The family takes the insurance company to court and they have just lost the case.
---
Preferential Voting – Topher Field video
A great reminder by Belinda to watch the Topher Field marbles video to understand how preferential voting works.
---
Australian Free Independent Press Network
Thank you, Loz, for this link to this independent news site.
---
How an Obsession with SAFETY Leads to Mental Illness & Tyranny – Academy of Ideas
Thank you, Dora, for sharing this video that explores some of the philosophies which examine the prioritization of safety. What happens when we value safety above all other values?
---
Dr Ariyana Love's Detox Protocol
Charles mentioned the protocol of Dr Ariyana Love.
---