---
FREEDOM SUMMIT DOWNUNDER 2022
Thank you, Phil, via email, for reminding us of the Freedom Summit Downunder, organised by Reignite Democracy Australia, planned for Wednesday 13th July 2022.
GO HERE for more information.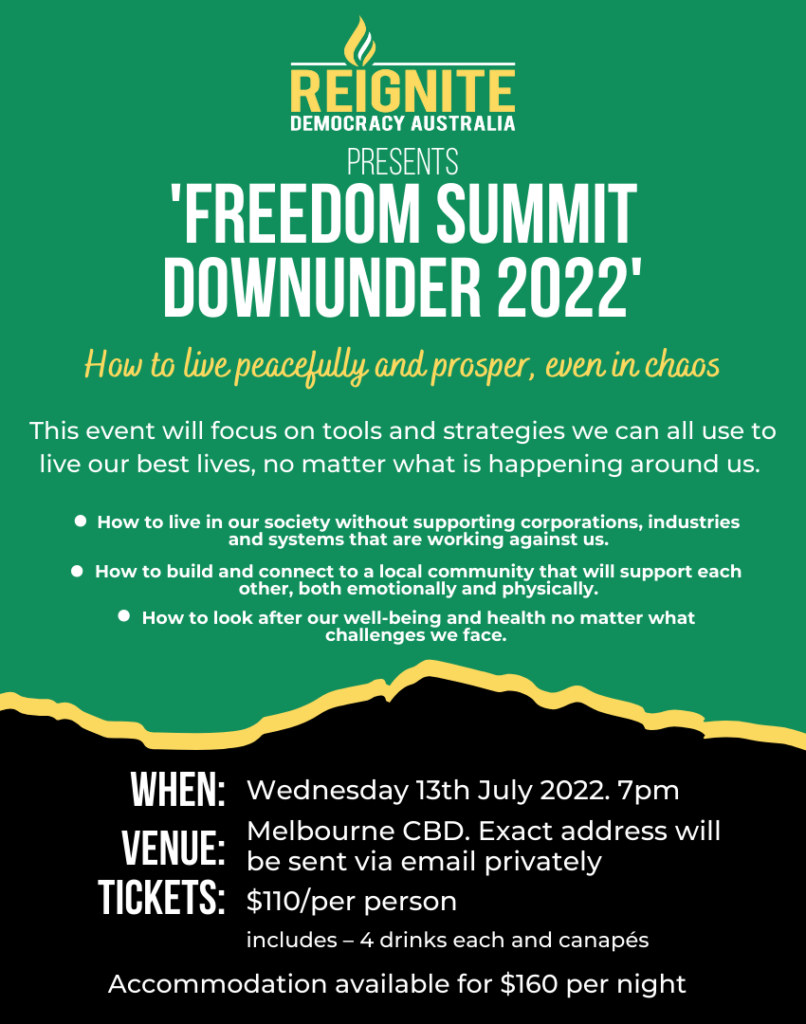 ---
Unvaccinated teachers to be welcomed back to schools as mandate ends
Thanks, Sharon, for this link to an article in The Age from the 22nd of June 2022.
GO HERE
And, this link to an article about dropping NSW jab mandates.
GO HERE
And, QLD dropped jab mandates.
GO HERE
---
SPANISH RESEARCHERS FIND A WAY TO REMOVE MAGNETIC GRAPHENE FROM THE BODY AFTER A COVID JAB
Thanks, Jules, for this Bitchute video link on NAC 750 N-acetylcysteine.
NAC prevents viral material from replicating and stimulates endogenous glutathione production in the body your chief antioxidant, that's why they tried to pull it off the market because it's highly effective.  It's a precursor to glutathione (the body's major antioxidant, for which we take all the other antioxidants to recycle). It is also a sulfur donor, which we need for many detox processes in the body.
GO HERE
---
Oligoscan
Charles mentioned the homoeopathy scan that is used to measure the levels of minerals and heavy metals in your system.
GO HERE
---
Snoot Spray
Snoot Spray was mentioned as a remedy for loss of smell.
GO HERE
---
Charles' Burnt Orange Peel Remedy
Charles mentioned a remedy for loss of smell as well.
Take an organic orange and hover over a flame and blacken the peel.
Then sprinkle with organic sugar.
Then eat it and enjoy: what could be unpleasant about an orange covered in sugar?
---
Julian Gillespie with an update on the AVN's Judicial Review case
Thanks, Sharon, for this link to a video that Charles mentioned about Julian Gillespie concerning AVN Case.
GO HERE
---
Rumble Presentations
Charles encouraged us to watch one of the latest presentations on his Rumble channel. Johnny Vedmore.
GO HERE
And, Dr Richard Fleming
GO HERE
---
Bowen Therapy
If you are interested to find out more about Bowen Therapy, go HERE
---
Common-Law Court International Australia
Thanks, Fiona, for bringing our attention back to the Common-Law Courts in Australia.
GO HERE
---
Dr Vernon Coleman website
Charles encouraged us to go to Dr Vernon Coleman's website for research.
Dr Coleman is a long-time UK doctor and provides a very good source of information.
GO HERE
---