---
Join our Telegram Group
If you would like to continue the discussion, go to our Telegram channel, Awake.
GO HERE
---
FAIR WORK ACT 2009 – SECT 26
Thanks, John & Peggy, for the link to the Fair Work Act 2009.
GO HERE
---
FOAM website
To register for notifications, go to our FOAM website, https://foamgroup.online/
You are welcome to share with like-minded friends and family.
GO HERE
---
Travel Information
Many thanks, Phil, for sharing the travel information you have collated.
---
State of Emergency extended in Qld
Thanks, Robert, for this link to Queensland Health website page
GO HERE
---
Rumble Presentations
Charles mentioned the following presentations loaded to his Rumble channel.
Stephanie Seneff
https://rumble.com/v18ch5r-stephanie-seneff-shorter-version.html
Dr Tau Braun
https://rumble.com/v18ns05-tau-braun.html
Dr Wolfgang Wodarg
https://rumble.com/v17u1f0-wolfgang-wodarg.html
---
Book: Contempt of Court
Thank you to John O'C for this book recommendation.
Contempt of Court. The Unofficial Voices from the DOGS Australian High Court 1981.
Written by Jean Ely. Justice Lionel Murphy judgement is based on Rule of Law
GO HERE
---
Book: Toxic Legacy
Thank you, Charles, for this book suggestion of Toxic Legacy: How the Weedkiller Glyphosate Is Destroying Our Health and the Environment, written by Stephanie Seneff, who features in one of the Rumble presentations above.
GO HERE
---
Oligoscan – Homeopathic Test
The homoeopathic test that Charles recently underwent to check for deficiencies in vitamins, minerals and levels of heavy metals is an Oligoscan.
For more information, GO HERE
---
Reignite Democracy Australia Freedom Summit
Thanks, Phil, for this information about the RDA Freedom Summit on the 13th July.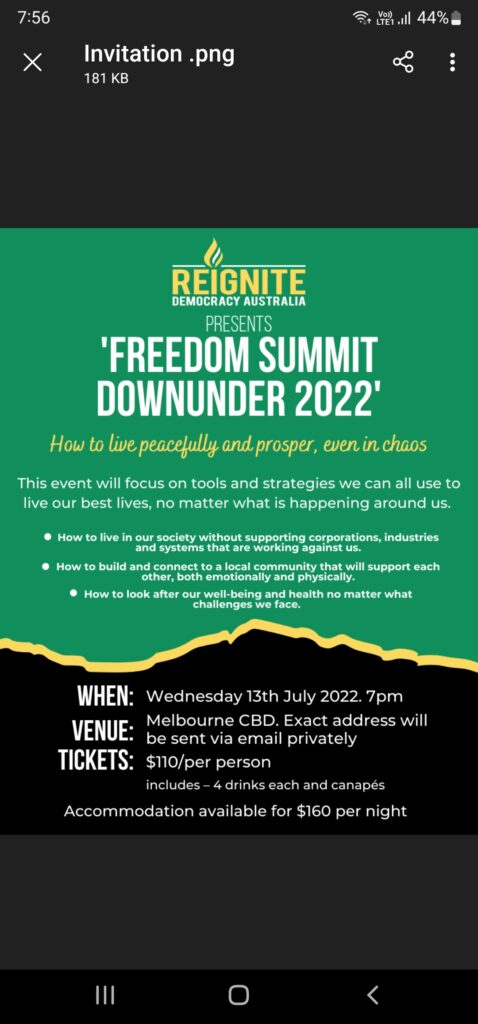 ---
Charles on TNT Radio
Don't forget to tune into Charles' radio program on TNT Radio on Saturday 18th June at 3:00 PM AEST.
Go HERE
---
Calling for people who know how to build sustainable communities.
Thank you, Phil, for this request. If anyone is expert at building sustainable communities they can let Reignite Democracy Australia know by completing the attached form, and they might be able to speak at the event on the 13th of July.
Go HERE
---
THE UNIVERSAL ANTIDOTE – the science and story of Chlorine Dioxide
Thank you, John and Peggy, for this video link on the topic of chlorine dioxide.
Go HERE and also another video on the topic HERE
And, thank you Jules for this link to purchase Chlorine Dioxide – HERE
And, Laila, for this link to purchase the book, Bye Bye Covid, by ANDREAS LUDWIG KALCKER on Chorine Dioxide HERE
---
CoVision
Thank you, Fiona, for bringing our attention to CoVision, an initiative of Serene Tefaha.
From the site:
Our journey as Australians Say No, has come to an end, and we now enter our next phase of growth towards a better future for all. The time of negotiating with corrupt officials is over. We invite you to claim your freedom and forge a better path with CoVision.
​​CoVision is finally here! We are calling on everyone who is ready to transform their talents, time and resources into a cohesive assembly of solutions that will unlock our potential and create thriving and connected communities.
Go HERE
---
VAXXED From Cover-Up to Catastrophe 2016
Thank you, Aros, for this video link to this 2016 documentary.
Go HERE
---
EPIK – Solutions for Digital Empowerment
Thank you, Charles, for bringing our awareness to an alternative and secure website solution, and many other online solutions, away from the control of Big Tech companies, at epic.com
Go HERE
---
Bill Gates Sings
Thanks to Gerry, who had earlier emailed Charles this link to a little ditty about the evil and corrupt activities of Bill Gates.
Go HERE
---
Julius Ruechel articles
Thanks, Charles, for encouraging us to read Julius Ruechel's articles. In particular, "Words from the Dead", a brilliant analysis of what is happening to our culture and what each one of us can do about it.
Go HERE
---
4 Generations
This was brilliant – thank you for sharing, V for Freedom
Hard times => strong Men
Strong Men => good times
Good times =>weak Men
Weak Men => hard times
4 generations
---
A WIN FOR UNIVERSITY SECTOR: Supreme Court Judgement Will Cause Tertiary Institutions To Think Twice
Thank you, Ian, for this information on a 'judgment from Parker J in the Supreme Court last week should cause tertiary institutions to think twice before delaying or blocking the progress of students whose views on politically charged issues (in this case Government handling of Covid-19) differ to the mainstream.'