---
Song: Liberty
Thanks, Simon, for reminding us of this wonderful song by Lauren Kellie.
---
Died Suddenly – the movie
This movie has already had over 11 million views! If you have not yet had a chance to watch this important and confronting movie, Died Suddenly, CLICK HERE
---
Montreal to pay $3M to Maple Spring protesters who were illegally arrested
Thanks, Julie B, for this link to an article describing the City of Montreal agreement to pay a total of $6 million to settle eight lawsuits as well as eight other similar class actions for illegal arrests.
---
Anti-vaxxer nurse who injected up to 8,600 elderly patients with saltwater instead of Covid vaccine walks FREE from court in Germany
Thanks, Julie B, for sharing this article about the nurse who injected saline solution instead of the jab to 8,600 people being found not guilty in a German court.
---
Degradative Effect of Nattokinase on Spike Protein of SARS-CoV-2
Thanks, John and Ines, for sharing this link about Nattokinase.
John and Ines also supplied a link to purchase HERE.
---
The forbidden history of Christmas
Thanks, Simon, for this video which explores the history of many traditions surrounding the Christmas holiday and examines their connections to paganism. Viewers will discover new insights about Christmas traditions and be challenged to rethink what they thought they knew.
---
Depopulation Through Forced Vaccination: The Zero Carbon Solution!
Thanks, Rosie, for finding the article link to the one that John H spoke about through internet archives. This article had Bill Gates talking about the 'need' for depopulation through forced vaccination back in 2011.
Thanks, Michael, for sharing this Reuters article disputing the legitimacy of the Bill Gates article. GO HERE
Michael also noted that "…some links to some of the original info including Ted Talk that Gates made the initial comment…"
---
The Green Pill
Thanks, Sion, for sharing the below image.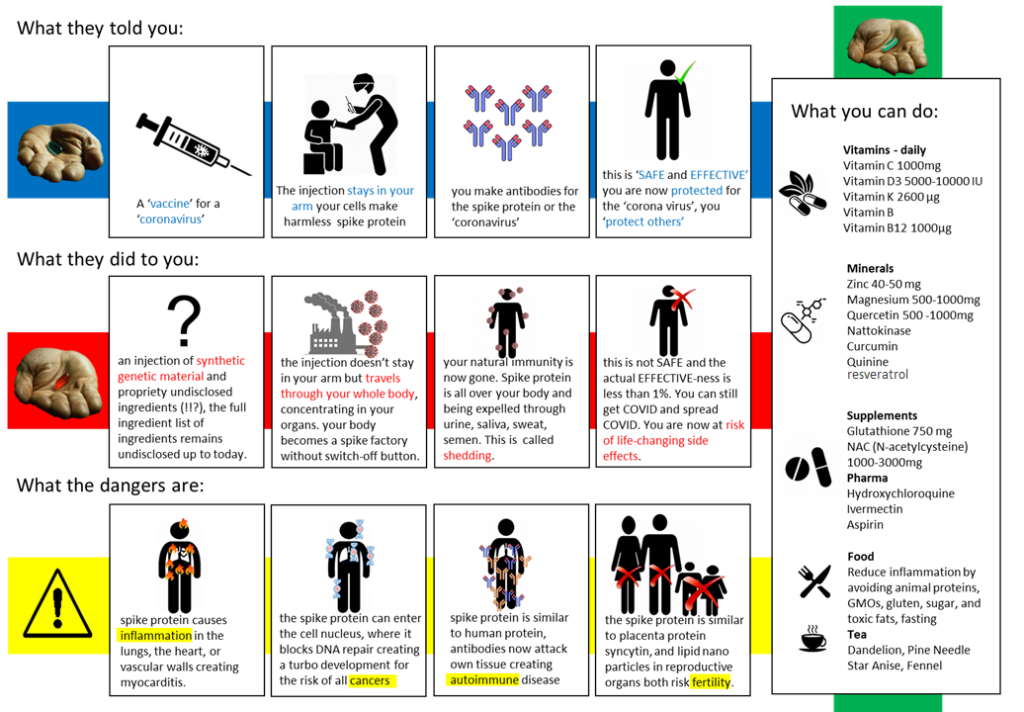 ---
WOW: World of Wellness: Attend the weekly meetings.
Thanks, Vincent, for sharing the details of the weekly meetings at WOW in Melbourne:
Sunday 4 Dec 3 pm
Weekly WOW meeting.
St Colman's church hall
293 Carlisle st
Balaclava
---
Cannakis Hemp products
Thank you, Charles, for encouraging us to have a spoonful of hemp seeds every day for optimal health. The brand Charles mentioned is Cannakis.
---
Dr Phillip Altman
Thanks, Charles, for encouraging us to view the presentation of Dr Phillip Altman to the group, Medical Doctors for COVID Ethics, of which Charles is a moderator.
---
JP Sears – comedian
Thanks, Charles, for highlighting the excellent work of JP Sears. GO HERE for his youtube channel. His recent non-comedic piece about choosing good over evil is worthy of deep consideration and contemplation. GO HERE
---
Anthony Clarke's YouTube channel
Thanks, Sharon, for sharing the YouTube channel of our FOAM member, Tony Clarke.
---
ANALYSIS: INTERNATIONAL HEALTH REGULATIONS AND PANDEMIC TREATIES – WHAT IS THE DEAL?
Thanks, J O'C, for sharing this article and analysis.
---