PROTECT THE RIGHT TO PROTEST IN NSW
Thanks, Pasquale, for sharing this link to an article on the Amnesty International website.
GO HERE
---
Dr Carrie Madej on Rumble
Thanks, Charles K, for encouraging us to watch one of the latest presentations on his Rumble channel with Medical Doctors for COVID Ethics.
GO HERE
---
Lara Kelly who lost her baby at 12-weeks gestation due to C19 jab
Many thanks, Sharon, for sharing the heartbreaking video of a Mum who sadly lost her unborn baby after being coerced into the jabs by her doctor.
GO HERE
For vaccine injuries, go to the following Telegram Group. Thanks, Sharon, for sharing this.
GO HERE
---
The Tequila Song
Thanks, Charles and Simon, for sharing this touch of humour.
GO HERE
---
The Catholic Church must free itself from this 'toxic nightmare'
Thanks, Caroline, for sharing this Spectator Australia article.
GO HERE
---
Truth is knowledge held back by power – where did the burden of proof go?
Thanks, Sharon, for this article in the Spectator Australia by Tony Nikolic, solicitor, or AFL Lawyers in Sydney.
GO HERE
---
SHANE'S PROTOCOL
Thanks, Shane, for sharing your recommended protocol for those who have not had Covid, are infected with Influenza / RSV. Here is the protocol that will keep you safe:
Daily:
– N-Acetyl-Cysteine 1800mg
– Zinc as Picolinate 50mg
– Ascorbic Acid 1000mg
– Vitamin D 7000IU with Vitamin K2 300mcg
If vulnerable, (Type 2 Diabetic, 65+ years, BMI 25%+), add:
– Quercetin 1000mg
– PEA 1200mg
---
Another theme song: Brainwashed, by Tom MacDonald
Thanks, Simon, for this suggested song.
GO HERE
---
Living will
Thanks, Sharon, for this link to important steps to take to ensure the medical profession, should you need to go to hospital or have surgery, know what your legal wishes are.
GO HERE
---
Nationalism V's Globalism Wheel
This wheel provokes a person to choose between retaining national soveignty or supporting a one-world government: i.e. globalism. If you choose nationalism, then there are five key areas to which you must give attention., as shown the wheel.
Thanks to Dr Gerry Brady and colleagues for the creation and developement of this wheel.
Improvement suggestions are welcome.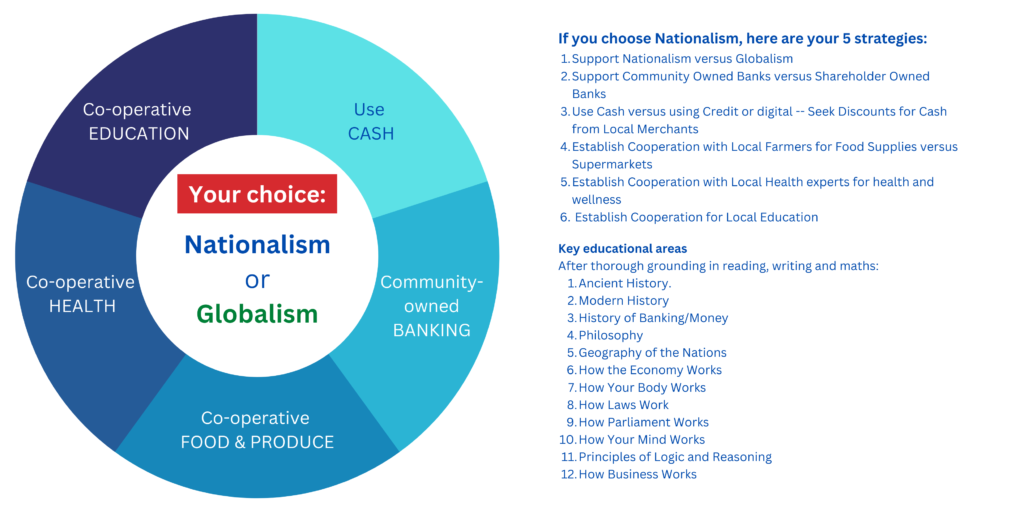 ---
Bernie Madoff Netflix documentary
Charles and Julie recommend this 4-part documentary on Netflix. It's a shameful episode in regulatory oversight by the SEC. There are big lessons to be learnt for the shameful failure in oversight of Covid jabs by the FDA, CDC, TGA, AHPRA, et al.
It can easily be found if you have Netflix.
---
Rosie on TNT Radio
FOAM member, Rosie, a WA solicitor was interviewed recently on TNT Radio.
GO HERE to locate the episode and the Mind Medicine Program hosted by Charles Kovess.
---