---
Will the real Joe Biden Stand up
Thanks, John and Ines, for this link after Charles K raised the question of whether Joe Biden actually died years ago and there is a body-double in his place.
GO HERE
And, Julie B for this possible discrepancy with Trump, with her chat comment of, "Trump height is 6' 3". His daughter and her husband are both 5' 8". If you look at the recent wedding photo, Trump is the same height as his daughter. Or maybe the daughter and husband are wearing 7" heels?" HERE
---
"I Will Not Be Leaving Quietly" by Five Times August (Music & Lyric Video) 2021
GO HERE for this wonderfully upbeat and powerful theme we have been using for our meeting intro.
---
Advanced Care Directive for Adults
Many thanks to Authur and Elaine for this document, with the emailed notation of…
"Attached is 'Advanced Care Directive for Adults' which states how a person wishes to be treated near the end of their life with a SPECIAL CLAUSE stating which medical procedures they wish to have OR don't wish to have.
It has been produced by the Government and is witnessed by a person's doctor when they sign it. The doctor can question the person and make sure they understand any medical procedure they stated in the document that they don't wish to have.
Today there are many older people living on their own and we feel it appropriate to make people aware of this document which details their wishes as they approach the end of life."
---
Scandinavian Freedom News
Thanks, Simon, for this link. This newspaper has been produced by a bond trader in Denmark, Mads Palsvig, and uses humour in a number of ways to influence politicians and the public to shift their thinking on covid.
GO HERE
---
Charles K Rumble Channel
View the presentations of the guests on Medical Doctors for COVID Ethics HERE
---
Thanks, The Rx Guy, for this image.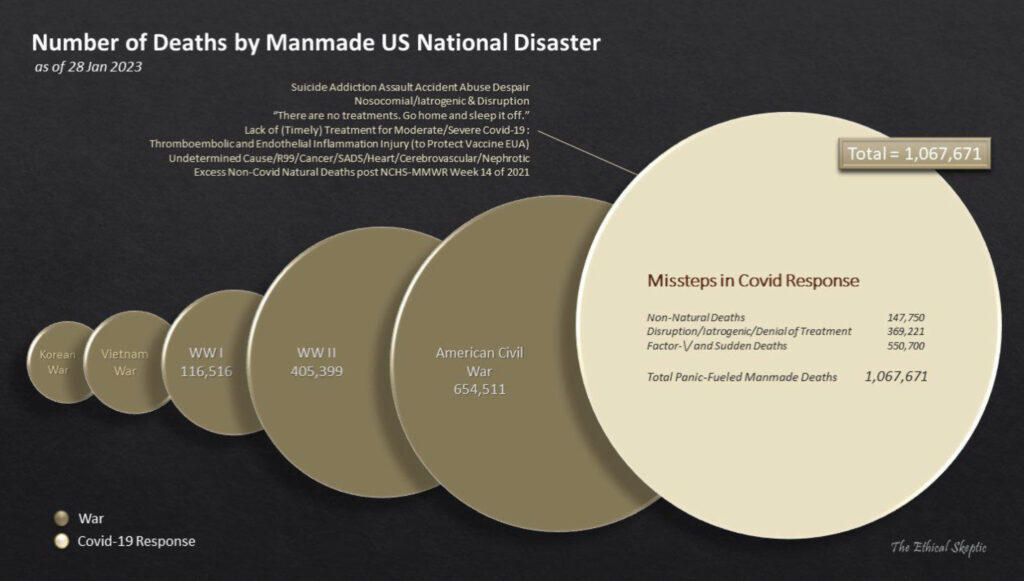 ---
Member of European Parliament, Rob Roos
Thanks, John and Ines, for this link to a video on Twitter posted by MP Rob Roos, with notation,
Chapeau@NancyMace
"Wonderful how you exposed that even specialized doctors of the best universities in the world were censored on social media for being critical of COVID policy The lack of open debate caused incredible harm to people and to democracy"
.GO HERE
---
W.H.O. Pandemic Treaty Update
Malcolm Roberts of One Nation delivered an update of the WHO Pandemic Treaty.
GO HERE
---
CLUB GRUBBERY ATHLETES WITH VOICES
Thanks, Vicki, for these links.
Part 1 – GO HERE
Part 2 – GO HERE
Part 3 – GO HERE
---
PANDEMIC VACCINE AGENDA PREDICTED BY DR RIMA LAIBOW IN 2009 ON JESSE VENTURA'S TV SHOW
Thanks, Simon, for this link.
GO HERE
---
A Randomized, Controlled Trial of Ebola Virus Disease Therapeutics
Thanks, Simon, for this link with the notation, "Remdesivir is the first covid treatment to be used in the US. A study of Remdesivir for Ebola showed that treatment with Remdesivir kills more than 50% of patients (20) Nevertheless, Remdesivir was proposed as the only authorized treatment (21). This leads to fatal acute kidney failure (22), A recent survey of more than 5,000 covid-19 patients confirms the renal failure and potential fatal adverse effects of Remdesivir(23). All these deaths were counted as covid deaths."
GO HERE
---
Medical Doctors for COVID Ethics presentations
Thanks, Charles K, for encouraging us to view the latest speakers for Medical Doctors for COVID Ethics.
Matt Le Tissier presentation HERE
Katherine Watt presentation HERE
The slide deck for the Katherine Watt presentation can be found below.
---
My Place Australia
Thanks, JOC, for bringing Darren, the founder of My Place, Australia, in for a chat.
GO HERE
---
Grammy Awards opening pays tribute to Satan
Thanks, Julie B, for sharing this link to the opening of the Grammy awards a few days ago. There was tribute to Satan. Sam Smith was playing Satan – and it was sponsored by Pfizer!
GO HERE
---
PATENT RESEARCH C 19 VAX RECOVERY SOLUTIONS
Thanks, Simon, for this link.
GO HERE
---