ThriveOn.com
Thanks, Jay for mentioning Foster Gamble and Thrive.com Foster is working hard to 'foster' global cooperation between groups like FOAM and many others,to increase our global impact and effectiveness. 
---
Canadian Covid Care Alliance report on Pfizer testing
Charles referred us to the Canadian Covid Care Alliance report on the corrupt, conflicted, criminal and fraudulent Pfizer study that led to its EUA.
Click on the button below for the excellent, 51 slide presentation. Charles had previously sent to some of you the original presentation of 57 slides, but it has been slightly improved. 
---
Victorians Fleeing the state
Neil Angus MP, of the Victorian Parliament, brought to our attention the disturbing fact that over 44,000 people had left Dic Dan's State permanently during the year.
---
Silicated Water
Prof Dolores Cahill of Ireland advised that silicated water, obtainable in Fiji Water brand product, helps to remove harmful aluminium from your body. Aluminium causes dementia.
---
World Freedom Directory
Thank you, Phil, for this link to the list of more than 500 freedom groups that have sprung up recently, including in Australia,
Simon shared this impactful image of a bullet tippped-syringe.

Article – The UK New Normal Dictatorship – By Iain Davis
​Thank you, Gerry, for the link to this article.
You will see included in the article the image that John H screen-shared during the meeting.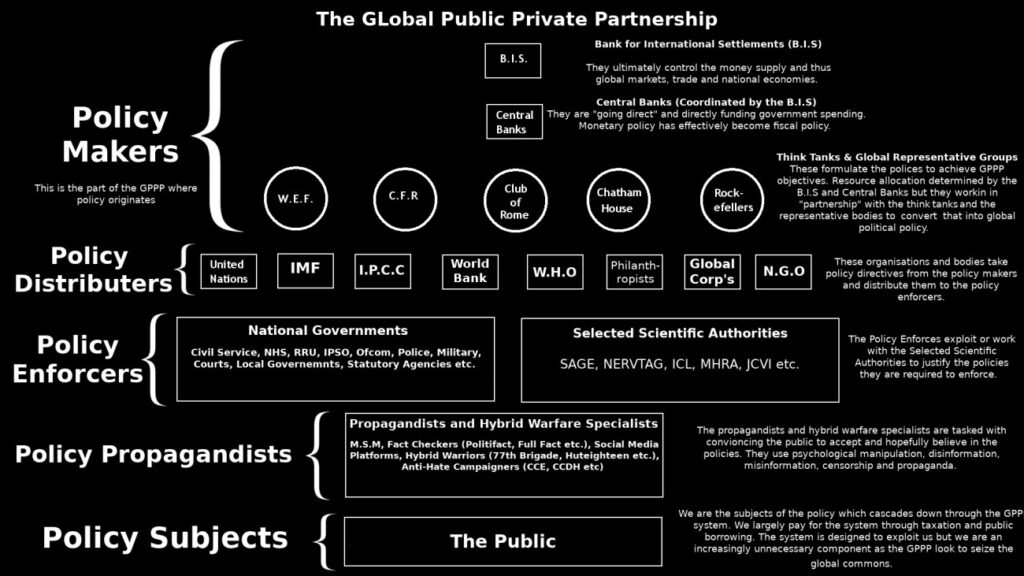 THE FALL OF THE CABAL – Exposing The Worldwide Network Of Evil
Thanks, Phil and Gerry for bringing our attention to The Fall of the Cabal.
GO HERE to purchase the series.
GO HERE to watch on Bitchute.

GO HERE for more access to it.
---
U.S. ARMY LT. COLONEL EXPOSES NUREMBERG CODE
Thank you, Arlyn, for sharing this Bitchute video.
A senior U.S. Army flight surgeon who warned that pilots could die in mid-air from COVID-19 vaccine side effects testified Tuesday at a roundtable hosted by Sen. Ron Johnson on Capitol Hill.
Testifying under the Military Whistleblower Protection Act, Lt. Col. Theresa Long told the Wisconsin Republican at the event that she had grounded vaccinated pilots to monitor symptoms of myocarditis — including chronic fatigue — that could cause them to die of heart failure in mid-air.
---
Australia's Place in the New World Order
Thank you, Arlyn, for sharing this article.
The world is changing, and is changing fast. A group of international business elites with oligarchic origins continue to manipulate society in hopes of transforming the world in to a vision from Orwell's dystopia – with Australia seemingly positioned as test dummies for numerous aspects of this system.
---
Investigator Deborah Tavares Updates Us With a Leaked Email That Will Make Your Blood Boil (Video)
Thanks, Arlyn, for sharing this video.
In this latest, riveting video, Investigator Deborah Tavares updates us with a leaked email that will leave you furious and ready for justice. Hear what will accompany theses latest, heavy worldwide lock-downs.
Heavy lock-downs are re-starting with the UK.
---
Stop World Control
​
The world is under attack! Multibillionaire criminals are planning a New World Order that will impose worldwide tyranny.
Thank you, Phil, for the link to this website and all its great content.
---
Sun Villages
Thanks, Arlyn, for informing us about the peer-funded eco-villages.
Go to the site at the link below and access the free booklet on The Great Reset.
---
A World Health Organization whistleblower( Astrid Stuckelberger) has gone on the record to warn that the WHO has been taken over by hostile entities such as Bill Gates.
​Thanks, Arlyn, for sharing this information GO HERE
---
Pandemic Order Register
This is new for Victoria since the new bill was passed. Thanks, Jay, for the link.
---
Global Cryptocurrency Charts
Thank you, Gerry, for this website.
---
Early Treatment Protocols
Thanks, Gerry, for this website of a group of expert clinicians who are driven only by our desire to save lives, FLCCC.
---
The Dictator in Isolation
Thanks, Michaela, for this link to an article about Dan Andrews going into isolation after COVID exposure. 
---