---
"VACCINES don't cause autism" has now been deemed completely false and the CDC has been forced to remove their statement saying it, due to the great work of The Highwire and Del Bigtree's team.
Thanks, Jules, for this link to the great news.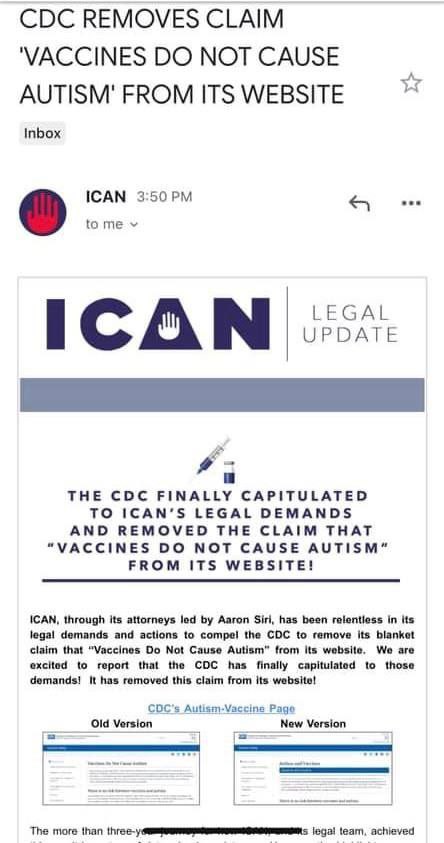 (following content taken from a Telegram post)
They did it! Robert F Kennedy, Jr. and Del BigTree did it!! They finally proved the long-held that
"VACCINES don't cause autism" is completely false. And they forced the CDC to remove their statement saying it! The CDC can no longer claim that VACCINES DO NOT CAUSE AUTISM!
Because they can… and they do.
In 1980 autism was 1 in 10,000
1986: Then vax industry lost liability and the massive increase in unsafe childhood immunizations began
1990's: autism 1 in 500
And multi-vial concoctions paired with Tylenol and the ever-increasing doses…including neurotoxic aluminium continued…
2018: 1 in 36 children with autism.
2021: American children will get 72 doses of vaccines and there are over 250 in the pipeline.
By 2030: at this increasing rate, autism is projected to be 1 in 2 children.
Thank you, Tim, for sharing this link that indicates that the CDC has not yet updated their site. GO HERE
Follow more of the story on Del Bigtree's The High Wire. Del has been working tirelessly exposing the lies and corruption of Big Pharma and the damages their vaccines have on children. GO HERE
Watch the presentation by Andy Wakefield on Medical Doctors for COVID Ethics HERE – Andy was the first to raise questions over the possible causal link between vaccines and autism.
---
Wilhelm Reich's Cloud Buster and Climate Control
Thanks, Maria, for this link to an article discussing Wilhelm Reich changing weather early last century.
GO HERE
---
Moderna v Pfizer
Thanks, Rosie, for this link.
GO HERE
---
Club Grubbery
Thanks, John H, for this link to one of the recent interviews by Club Grubbery, hosted by Graham Hood. Retired Lt Col Kevin Loughrey and former Senior Constable Natalie from NSW Police talk through injustice and malicious punitive actions.
GO HERE
---
Rowan Dean
Charles encouraged us to watch Rowan Dean on The Outsiders and also his program, The World According to Rowan Dean.
GO HERE
and HERE
---
CoVision
Thanks, Jules, for your wonderful work with Magic Moments Foundation (see the story Jules mentioned HERE)
and, for reminding us of CoVision, an organisation founded by Serene Teffaha and worthy of support.
GO HERE
---
Kevin Loughrey
A reminder to support Kevin Loughrey
GO HERE – thank you John H for the link.
---
Justice for Australians
Thanks, Steve and Peter, for your wonderful work with Justice for Australians.
From their website:
We share four fundamental goals:
1. Revoke the draconian legislative measures implemented during the Covid-19 pandemic,
2. Restore our right to bodily autonomy, free and informed consent, and to work and socialise,
3. Hold the government and their delegates and agencies to account for their transgressions, and
4. Educate to implement measures that will ensure this never happens again.
GO HERE
GO HERE for their Instagram page.
---
Died Suddenly News
Thanks, Jacqui, for alerting us to the Facebook Group, Died Suddenly News, a group that is growing in remarkable numbers of members by the day.
GO HERE
---
Charles' Rumble Channel
A reminder to watch the presentations on Charles' Rumble Channel. These have the speakers at Medical Doctors for COVID Ethics. Compelling, interesting and crucial to watch.
GO HERE
---
Ivermectin: The Truth
Watch this recently released movie on the truth about Ivermectin.
GO HERE
---
WOW: World Of Wellness
The launch of the website for World Of Wellness was on Monday night.
We did not get to speak to Ian B or JoJo during our meeting, but they will report next Friday.
World Of wellness is a wonderful organisation and their mission, as stated on its newly launched site, is:
Our values include the human right for individuals to make their own informed medical decisions.

Autonomy over medical procedures free of coercion is a cornerstone of a free and peaceful society.

Our aim is to advance health outcomes by focusing on prevention and treatment using evidence-based nutritional, herbal, and alternative therapeutics in a parallel medical system.

The current patent based medical structure is overwhelmed by the increase of chronic illness and disease.

A wellness-based model is an economic and ethical solution to our future health and society.
GO HERE
---
'Needle and the damage done' by Neil Young
Thanks, Tony C, for the suggestion of this song by Neil Young in relation to jabs, probably related at the time to psychotic drug jabs, but now very relevant for Covid jabs.
GO HERE
---
Mark Neugebauer letter to politicians in all three levels of Government
Mark wrote to his local mayor, his State Government representative for his electorate, and his Federal Government representative for his electorate. We urge you to do the same. The letter is powerful and puts these politicians on notice. Mark also suggests that it be sent to your media connections of any type, so that the politicians cannot ever claim that "I did not know!"
The letter pro forma can be accessed below.
---